What's the point of running a business if no one is buying?
Whether you render services or you sell a product, one of the true ways to measure your success is acquiring a steady flow of customers.
It's been proven that it is cheaper to hold on to old customers than to get new ones. However, it is impossible to retain customers if you don't get them in the first place.
Thankfully, there are several ways to bring in new customers within a short time frame. Here's a cheat sheet with 16 steps on how to get brand new customers.
However, most small businesses experience hard times or fail, not because customers do not want to buy their products, but because customers don't even know their products/services exist in the first place.
Despite these difficulties, how come there are still a couple of businesses which start very small but are able to attract enough customers to remain in business?
They're probably using two or more of these we are about sharing with you.
1. Take your advertising efforts online
More people now depend on the internet for information nowadays. More people are watching YouTube than they watch television. More people read news websites and online magazines instead of the paper versions. Even big companies have recognized this shift and are now investing more in online advertising over the traditional ones.
This brief explanation from Website on Click puts it succinctly!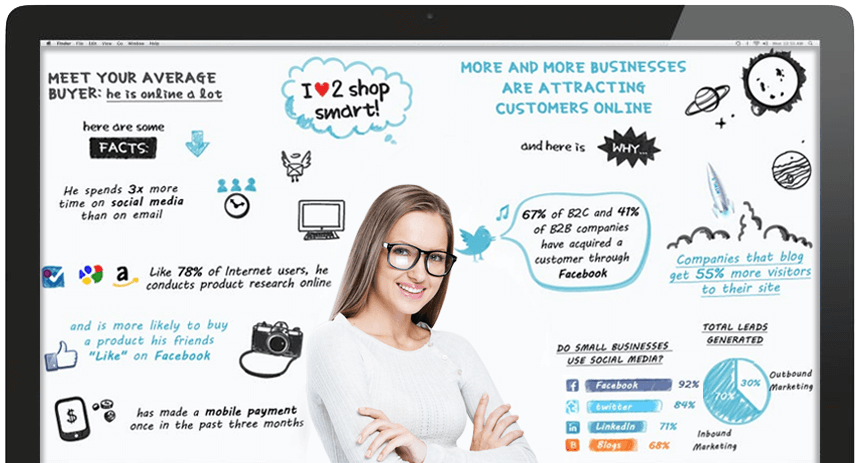 Since people now spend more time on the internet, it only makes sense that you follow them there.
There are different forms of online advertising but one of the most popular remains Google's Adwords Program.
Google is by far the largest search engine on the internet and millions of people around the world depend on it everyday for information. In 2016, Google's ad revenue amounted to almost 79.4 billion US dollars. With a small daily budget of $10 to $20 per day, your business can attract thousands of new customers fast.
In order to make your organization more searchable on Google, use catchy words and phrases that people are likely to type into search engines when seeking a new product. You can also use trending hashtags on social media sites like Twitter. This helps to give your brand exposure in multiple online areas.
The key is to target the right audience. For instance, a plumber shouldn't target the broad keyword "plumber" because an individual searching for this term could be merely comparison or price-shopping. Use search query analysis to your advantage. I would argue a better keyword would be 'emergency plumber in' followed by your target city name. The difference is large. This searcher's intent is to find a plumber due to an emergency situation close by them.
Each industry has specific intent-based queries. Small-business owners can often easily identify the words and phrases their customers are most likely to use when they're ready to buy or have an urgent need, as opposed to broader terms that searchers use for everything from preliminary research to price shopping. By targeting the right searchers who are ready to make a purchase decision, you'll generate new business quickly.
2. Start a referral or reward program for your existing customers
Sometimes, word-of-mouth advertising doesn't come automatically; you have to encourage, motivate or incentivize your customers to do it for you.
This illustration from Marketing Made Simple captures it well.
Start a referral or reward program for your existing customers. The more people they refer to you, the more free products, services and discounts they will enjoy. The reward should be large enough to trigger their interest and make them take action. It's a win-win method that always works.
Give your customers a reason to advertise and market your business
Here's an idea for a loyalty and referral program.
Register all existing customers and give them a unique code. Whenever they spend money on your business, it increases the total amount they have spent to date. If this total reaches a certain level, they are awarded certain discounts for all the services they pay for going forward. Let's say there are four levels (Bronze, Silver, Gold and Platinum) with increasing rewards.
So, we have a situation where customers have a really big reason to refer more people to your business and spend money under their code thereby increasing their totals and making them reach the Gold and Platinum levels faster.
And maybe you could create a leaderboard for a little bit more of a competitive environment.
3. Word-of-mouth works
This is the oldest form of marketing and advertising used by businesses since the world began. And it's good to know that it still holds up even in today's tech dominated environment.
That's because people are becoming increasingly suspicious of paid advertising.
When a customer is happy and satisfied with a product or service, there's a natural human tendency that they are likely to share this experience with people in their circle of trust and influence – family, friends, colleagues, neighbours and sometimes, strangers.
A satisfied customer is one of the most effective marketing and advertising tools a small business can ever have
Satisfied customers become evangelists and advocates for your business. It is amazing how many of your satisfied customers will go to great lengths to promote, convince, protect and defend your business outside. I'm sure you can think of a few businesses you've done the same for.
Network marketing businesses are a good example. Just look how they are able to attract new customers fast.
So, how exactly can your small business grow an army of passionate customers who will use word-of-mouth advertising to your advantage?
There are two major tricks:
The first and most important step is to sell a product or service that really works and provides great value. If a product or service delivers on its promise and does more than what it says, you can be sure people will be talking about it.
Most people buy products or services to solve a problem or satisfy a need. Nothing will make a customer happier and more satisfied than getting a product that makes a very challenging problem go away. They'll scream your name from the mountain tops!
The second and equally important step is giving a great customer experience. Most times, it doesn't really matter how large or deep-pocketed your competition is. You can grow a successful business on great customer service.
People like to buy products and services from businesses that treat them with respect. People love to be given attention and treated well and will always return to enjoy that beautiful experience again. Don't forget, customers spend their hard-earned money on your products. Don't you think they deserve a big "Thank you' with a wide smile on your face? People hardly forget a great customer experience and will happily tell others about it.
In short, don't go gunning for marketing if your product and customer service suck or are average at best. Invest those marketing dollars into improving your service first.
4. Word of Mouth via Influencers
Piggybacking on the previous idea, this second one is a great hack.
Having a great, problem-solving business coupled with stellar customer service, you should reach out to influencers, industry leaders and celebrities – people with a hefty following. The preferable way would be to follow them online and monitor their feeds waiting for when they would need the services you can provide. Then reach out to them and kick ass.
It's key to understand who your key influencers are in the industry, engaging with them, retweeting them, favoriting their tweets to get on their radar. Actively participate in tweets and mentions in a timely manner. Engage with them, create conversations, create relationships, because those relationships build more awareness and spread via word of mouth your product or service.
You could do yourself a solid and offer your services free of charge, asking for some word of mouth advertising in exchange only. A positive social media post or blog from a top industry influencer will do wonders for your customer base i.e. it will shoot up.
5. Sponsor a podcast
If you are the CMO of a growing company, you probably have the most difficult job in the company. No kidding.
You have to continuously look for new ways to get new customers and the current tactics you know are losing potency. So the pressure is on you to find new and efficient customer acquisition methods fast.
Traditional media like print and TV pail in comparison with new media and even the new media landscape is constantly evolving.
Podcasts are fast becoming a thing largely because they are niche and have already pre-qualified the audience for you.
There's a steady increase in the number of podcast listeners from 2013 to 2017 and from all indications, 2018 will not be an exception.
There are two ways to buy into the podcast scene
i. Get on a podcast as a guest
ii. Sponsor a podcast and get referrals to your website.
iii. Start a podcast of your own
Sponsoring a podcast is the best bet for businesses looking for maximum exposure but want to cut back on costs associated with running a podcast.
If you sponsor a podcast, you gain access to their pre-defined audience and get to be a consistent voice for the entire length of the podcast season.
6. Give out free stuff
Everybody loves free stuff.
Giving away some of your products and services for free does three very positive and interesting things for your small business:
First, it lets people out there know that you exist.
Second, it gives you a chance to prove the value of your product or service and show that it really works.
Third, it provides your future customers with a risk-free way to try out your products or service without spending any money. And if customers find value in your products or services, they will be willing to pay money for it.
Let's say Emmanuel wants to start a restaurant in his neighborhood and he's looking for a simple, cheap and effective way to advertise and kickstart his new small business.
He decides to put up a sign in front of his barbershop that reads:
'Free Meals. First 50 People Only'
This reads like a sign that will definitely catch a lot of attention, right? That is the power of free!
Anybody who walks into his shop for a free meal and loves the service will happily return next time to pay for it and will likely tell friends, colleagues and neighbours about the 'cool' new restaurant down the road.
As another example, giving away an information product, for instance, is a tactic that costs little to nothing out-of-pocket yet is difficult for prospects to refuse. What information can you provide your target audience that they can't live without? If you can answer this question, you can provide free value to key prospects and generate targeted leads.
Free stuff has a way of attracting new customers fast. Most people have a weakness for the word 'free' because in their minds, it's another opportunity to enjoy or use something without spending any money. By drawing them into your business, you give them a chance to see and experience something that would have been totally hidden from them if you didn't open your door.
However, you must make sure that the free stuff WILL NOT last forever. From the outset, determine the number of people who will enjoy the free stuff or how many days the promo will last.
Not everybody should get free stuff; it's the scarcity element that makes it very appealing.
7. Form "host-beneficiary" relationships
If you're a startup, another way to attract new customers fast is a little-used method that involves forming "host-beneficiary" relationships with established businesses that cater to a target audience similar to yours. The trick is to promote yourself to their database with a special offer presented as a gift from the older business. That way, you're piggybacking on the success of another entrepreneur who has spent years building a solid customer base.
Teaming up with businesses that offer complementary services offers you the opportunity to take advantage of synergy, which can be very effective in building a business. For instance, if you have a company that specializes in SEO, consider teaming up with a business that builds websites.
The beauty of this arrangement is that your startup (the beneficiary) can instantly reach large numbers of highly qualified prospects with the tacit endorsement of the established business (the host). The host is willing to participate because it's a way to reward loyal customers without incurring any costs. You, on the other hand, gain new customers, while the veteran gains goodwill.
Host-beneficiary marketing is a win-win strategy that will attract new customers fast if you follow a few basic rules:
a), Precisely define your target audience. "Women 35 to 55" might be a start, but it's not enough. Create a detailed profile of your target customer. The more segments you can identify, the more potential hosts you can approach.
b), Identify local businesses that serve the same market segments. That way, you can not only bring people in the door for your initial offer, but also increase the likelihood that they'll return to give you repeat business.
c), Develop a clear offer for each prospective partner. Come up with a free or deeply discounted product or service that has a high perceived value for the consumer with a low cost for you.
d), Pitch the plan, highlighting the benefits to the host business. Emphasize that it's a way for the established business to reward their customers at no expense and with virtually no effort.
e), Supply a letter for the host's use. Providing a draft "offer" letter that can be sent to the host's customers on the host's letterhead will help put the plan into motion quickly. It will also show the partner how easy it will be for him to participate.
f), Develop a strategy to convert redeemers to repeat customers. This, after all, is your long-term goal.
8. Offer discounts and deals
Just like free stuff, discounts and deals work well too. They are another creative and low-cost way to attract new customers fast to your business.
People often see discounts and deals as a huge opportunity to save money and enjoy a product or service for a whole lot less.
Discounts and deals usually influence customers to buy more products or services than they initially planned. They love to 'take the opportunity' because the same products may not be so cheap tomorrow.
Offering deals and discounts are also a powerful way to publicise your brand. There are a couple of deal websites in Africa that advertise great deals to deal-hungry customers on a daily basis e.g. DealDey.
9. Start a Contest
Everybody loves to win. It's not just always about the prize you win, it's the thrill of getting lucky or beating other people. Call it 'ego' or whatever you like, but it always works.
Let's say you're in the fashion business and sell office and formal corporate wears to young professionals. Let's also say you start an interesting contest and the prizes include a designer corporate wear or a fully-sponsored vacation to a local resort. To enter for this contest, all the participants have to do is submit a short 400-word article about their first day at their first job.
Can you imagine the kind of buzz this could create for your small business?
People in the corporate world will start to talk about the contest and create free attention and buzz for you. Note that this demography contains your target market. Even though many of them will not win the grand prize, they will still be interested in finding out more about your products and services.
A word of caution though. Make sure you can comfortably afford the prize(s) you plan to give out. Draw out a reasonable budget and stick to it. It makes no sense if the money you make from selling your products during the contest cannot cover the cost of running it.
10. Advertise in print and digital search corridors
The proliferation of media has led to an explosion of content providers – Youtube channels, print newspapers and magazines, blogs, social media handles etc that address every topic or special interest imaginable.
A search corridor medium is created when the advertising and editorial focuses on a single topic. For example, the "Business" and "Lifestyle" sections of your major newspaper are search corridors because readers know they can look there specifically for information in their areas of interest.
Suppose you wanted to buy a computer. You'd look in the section of the newspaper where most of the computer ads are clustered and compare prices–and you'd be shopping in a search corridor.
Which publications does your target audience turn to when they want information on your types of products and services? Do those publications offer a section for direct response advertising or other shopping or search opportunities? To attract new customers fast, the trick is to place effective advertising in the media your prospects turn to when they know what they want–from yachts to prescription eyewear to wedding dresses – and are looking for the right place to buy it.
11. It's the 21st Century. Get a Website Already
Businesses, whether small, medium or big, need websites too even if it has just a single page.
As a result of the huge influence of the internet, our world is now more connected than ever before. Most people simply use the internet nowadays when they want to find a product or service.
With the spread of mobile phones across many parts of Africa, it is easier and more effective to search Google for information rather than ask the nearest human being.
Let's say you run a small food delivery service in Lagos, Nigeria. Will your business come up among the search results when a desperate customer searches Google for 'restaurants that deliver in Lagos'?
Owning your own website is no longer a luxury that only big companies enjoy. The internet has now made it possible for everybody to enjoy the opportunity of getting found.
Websites are quite affordable today and there are a bevy of options available. The website should contain brief descriptions of your business, products and services. More importantly, you should include your contact information (physical address, telephone and email). A website is like your own billboard or newspaper advert.  Get your business represented on the internet and watch it attract customers fast.
12. Engage customers on Social media
Social media has become a preferred and convenient method of attracting new customers for businesses across a wide variety of verticals. From those in retail to others in IT, the five biggest social media platforms — Facebook, Twitter, Instagram, Snapchat and LinkedIn — are still growing.
Although there are now several social media platforms across the world, Facebook leads the pack as the world's largest social community with over 1.86 billion monthly active users worldwide (as at April 26, 2017). That's almost 25 per cent of the world's total population.
Popular social media networks like Facebook are some of the top places where your potential customers hang out and it makes perfect sense that you register your business on Facebook too.
In Africa, Facebook has proven to be popular with over 146 million regular Facebook users on the continent (March 31, 2017) registered on the website. Social media like Facebook and Twitter make it very easy for people (both customers and non-customers) to talk about your business. They can share or tweet about your products and services and this allows you to easily engage with them.
13. Volunteer your way into people's hearts
Doing volunteer work is often an overlooked opportunity to enjoy free publicity.
Get involved in volunteer work in your community. Sponsor an event or offer your services for free.
Have you ever wondered why big companies invented 'CSR', the common acronym for Corporate Social Responsibility? For some reason, customers love to support businesses that give something back to the society in some way.
Most times, all that is required may be your time, effort and encouragement. If you plan to use this method of advertising, remember to make sure that all donations, sponsorships and support are done in the name of your business and not yours.
14. Cold Call in the Short Term
In the era of digital media, the idea of cold calling is foreign to many small businesses. Inbound marketing is all the rage, and warm, inbound leads are widely recognized as far more likely to convert.
But when you're in a rut, you might not have time to nurture your inbound marketing funnel for a few more months to see results. Cold calling is an effective, short-term strategy for many small businesses.
15. Guest Blogging:
Guest blogging helps you generate high quality leads to your business or website. It also helps you with high quality inbound links that results in a higher SEO. Bufferapp for instance, acquired 100,000 users using guest blogging (in case you're doubting its efficacy).
By writing good content for a popular blog, you're announcing your presence to that person's audience. For example, if the blog has 10,000 readers, by sharing your content on that blog, you're exposing your business to 10,000 potential customers. And if you selected the right partner, someone whose business is complementary to yours, you're closer to converting all these 10,000 readers to becoming your customers. That's sure to attract new customers fast.
To start, reach out to blogs with high traffic and ask them if you can contribute to their blog with great content you wrote. Start small, build legitimacy, and expand from there.
16. Get Listed on Popular Local Directories
Thanks to the internet, small businesses can be listed for free on local directories.
When a small business is registered on a local directory, people around the world can find it on the map and view its contact information. The best part is, you don't have to pay anything to become registered on these directories. Some of the most popular ones out there are VConnect, Google Places, Yahoo Local and Bing Places.
How do you attract new customers? share with us.